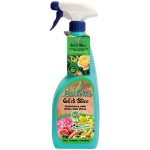 BioVentis Silica Gel Spray 550ml
€13.50 Inc VAT
Promotes the healing of damaged plants
Bioventis Silica Gel is recommended to increase the natural resistance of plants. The physical barrier that forms on the organs does not allow the attack of diseases. It improves the mechanical structure and promotes the healing of organs damaged by pathogens. Silicon hardens the cuticle and counteracts the development of leaf spots.
Advice for use BioVentis – Silica Gel 550ml
We recommend preventive treatments every 10-15 days and for curative and protective action, repeat the treatment every 7 days.
Hurry! only 3 left in stock.
Description
Silica Gel, 550ml, Spray Bottle, BIO, Natural Defence Booster