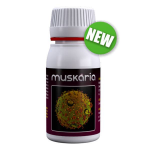 Agrobacterias Muskaria 60ml
€6.99 Inc VAT
Agrobacterias Muskaria 60ML is a natural universal fungicide, suitable for organic farming.
Muskaria is a preventive repellent product that helps prevent infestations of fungi and the proliferation of pathogens swelling the cell walls of the plant. It is a mixture composed of plant trace elements and acts as a bio activator enzymes that return force to the plants.
IDEAL AGAINST: powdery mildew, downy mildew, rusts and many other pathogenic fungi.
APPLY ON THE LEAVES: Preventive Application: 3 ml / l of water. Curative application: 6 ml / l of water.
Repeat the application as a foliar spray after 1 week to strengthen the effect.
Description
Agrobacterias Muskaria 60ml